Since Swift Print Communications' founding in 1912, our culture and the Golden Rule has guided us in everything we do. The same level of service we expect to receive is the same level of service we guarantee to provide to each and every one of our customers.
Providing Timely Print Solutions Since 1912
Since the year we began, our team at Swift Print Communications has always been committed to providing quality printing services in an efficient and timely manner.
In the early 1900s, railroad tariffs shaped our speed. Our local print shop had to be timely because when the train left the station, it left the station – no exceptions. For us, it's about more than providing the best for our clients; it's in our DNA to deliver on time.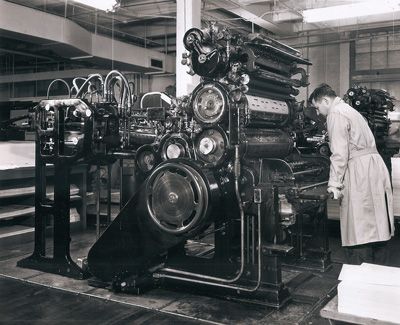 The Swift Culture
At our local print shop in St. Louis, MO, our team of quality printers strive to do the next right thing at all times and make decisions based on what's truly best for clients. At Swift Print Communications, we take full responsibility for every one of our actions and intentions while ensuring we stay humble, honest, and hardworking.
Fostering a culture where people work together and succeed to the best of their abilities, our local print shop is devoted to the task of doing the best job every time.
Our Promise
No matter how big or small the project, our professionals at Swift Print Communications will always do our very best to deliver timely, cost-effective, high-quality printing services and solutions. Continually holding ourselves accountable, we always do what we say we will do when we say we will do it.
At our local print shop in St. Louis, MO, we strive to ensure the experience you have with us is a great one. From the onset of the project, up to and including the delivery of the project, our expert printers will keep you updated and informed, providing unmatched customer service and quality print solutions. At our print facility, we stand behind every single project we produce. If the quality is unacceptable or doesn't meet your expectations, we will rerun at our expense. No substandard product leaves our building.
Embracing Innovation
At Swift Print Communications, we are passionate about what we do and, with a focus on the long-term, are always willing to take calculated risks that can lead to improved processes or better outcomes. From starting our Grand Format division in 2010 to implementing SwiftClick, our online storefront software, we look at something "new" as just another way to improve and better serve our customers.
Becoming Part of Our Clients' Team
Along with our willingness to improve our own processes, our quality printers at Swift Print Communications will also make every effort to help you find solutions to any difficult or complex issues you might be facing. From helping a brand name pet care company cut down on over half of their yearly marketing spend, to providing a medical company with innovative, changeable displays for their 80+ offices, our local print shop is ready, willing, and able to help you solve any and all of your printing problems.
Contact Us for Quality Printing Services
At Swift Print Communications, we are here to provide your company or organization with cost-effective, timely, high-quality print solutions. To learn more about our company, or mission and values, or our custom print solutions, don't hesitate to contact our local print shop today!