Shawn Fogle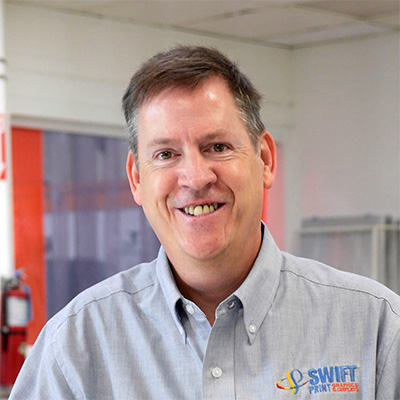 Shawn has nearly three decades of experience in the printing industry. He served as an account & marketing manager before accepting his role at Swift Print Communications. "Shawn's dedication to large-format graphics, as well as his printing experience, provide clients with a wealth of information and innovative ideas to further their messages," said Bryan Swift, president of Swift Print Communications.
Shawn joined Swift Print Communications on May 1st, 2015 to spearhead Swift Print Display & Graphics as vice president. In addition to helping promote and position our large format and display services, Shawn is responsible for servicing accounts. This ensures everyone has a firm understanding of what customers are asking for and need.
Shawn is known to embarrass his family regularly by picking and poking at nearly every graphic he sees when out and about. It drives them nuts but he is never deterred. He has a passion for the business and a commitment to service that equals it. We just hope he does not get hit by car someday when standing by the side of the road taking pictures of something new or of interest.