Rodney Verdun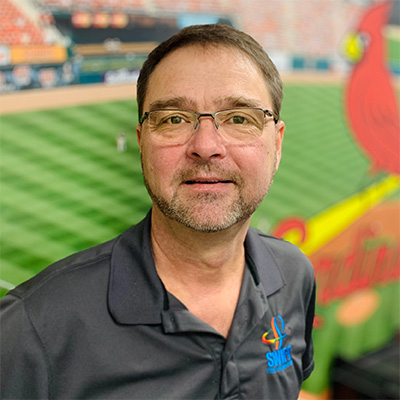 Rodney Verdun joined Swift Print Communications as part of their Management Team in February of 2017. He currently manages the Grand Format Department. When Rodney joined the Swift Family, he had no idea what "Grand Format" even meant, or what he was getting himself into when he started Rigid Boards/ Oce/ Scrim Vinyl. With more than 3 decades of experience in the Printing Industry, Bryan Swift took a chance on him and stepped back, Rodney put his head down, and went to work, and fought his way through it. Rodney states that he had a strong staff, and through all his failures and successes, thankfully he was able to make the needed changes that put Swift's Grand Format Division in the forefront of the St. Louis Market.
Rodney's first real interest in the printing field started in High School back in 1981 when he took a printing class for a semester. He really enjoyed it and was later offered a position in Paste-Up and running a camera at a small Mom & Pop shop, Beacon Graphics (a small division of Wood River Printing) in Wood River, IL. He was later promoted to a Duplicator Operator/ Camera Operator. In 1987, Rodney left for a better opportunity with James Mulligan Printing Co., in St. Louis, Mo. as a full time Stripper (yes, he had a lot of fun with that one through the years!). He stayed with Mulligan for 17 years, at which time he took evening classes at the now closed St. Louis Graphic Arts Institute. Rodney took 15 of 18 possible courses there to gain as much knowledge of the trade as he could. He's so very thankful for the time he had at Mulligan Printing, says the owners were extremely good to him, and feels that working for them was a huge turning point in his career. Unfortunately, Rodney made one of the hardest decisions of his life in 2004, left Mulligan Printing on good terms, and returned to Wood River Printing as their Plant Manager only to be closer to home, so that he could participate in his children's sporting events. Fortunately, Rodney is happy to say he still has a relationship with the Kiske family that still own & manage Mulligan Printing. Rodney stayed with Wood River Printing another 13 years before finding his forever home at Swift. He's passionate about what he does in his current role, loves going to work daily, and hopes to be there for a very long time.
Rodney resides with Kelly, his wife of over 30 years. Rodney attributes his success personally, and in the printing trade to her, and says, "there is nothing better than having a long relationship with your best friend, she is truly the wind beneath my wings." Rodney & Kelly raised two amazing children, Karlee & Drew, and they have (so far) been blessed with one Grandchild, Bryson (the light of Rodney's life…sorry Kelly.)
Outside of the office, Rodney's passion is fishing, he is an avid NASCAR race fan, loves watching any & all sports, he dabbles a little in golfing, but only when asked, or forced to by his buddies, and loves spending time with family & friends. He can normally be found completing honey do's at home, fishing at his cabin on the lake, kayaking, or hanging out with family and friends. Rodney says he's in his happy place sitting around a fire, listening to some good music, barbecuing, and drinking a cold beer with family and/or friends, and says "just give me a pork steak, Mac & Cheese, with a loaded baked potato, and there is absolutely nothing better!"
Favorite Food: Pot Roast, Potatoes & Carrots
Favorite Bands: AC/DC & Pink Floyd
Sign: Taurus
Weird Fact: Rodney states that when golfing, a lot of the time he intentionally hits that stupid little ball into the woods purposely just to go find the others he's hit there before.